A small exclusive preview of the upcoming highly advanced cricket management game Cricket Coach 2011.
This preview of Rockingham Software's Cricket Coach 2011 is written on the basis of BETA 4 and doesn't represent the final quality but still you may get an idea of this highly powerful upcoming cricket management game.
Before saying anything I would like to say that finally it's easy to have huge number of rosters, players and teams with the new Database system. You can create your Database; use it accordingly to your needs. What attracted my eyes was the sexy-sounding "Historic" database consisting of classic rosters and classic teams. If you want to go back to the past and want to play with your classic players, you can do it with the Cricket Coach 2011.
I don't know why but I really felt that the overall UI presentation has been improved and it's really pleasing to the eyes. There is no any kind of Menu background music or animated visual but still the layout is attractive.
The best part of Cricket Coach 2011 is the flexibility to edit nearly everything in the Database using the in-built "Game Editor".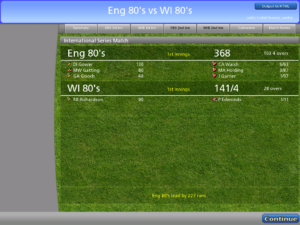 Coming on to simulation part, I must say that a brilliant attempt has been made on the level of details of the statistics. One thing I would like to highlight which I really liked in the simulation is the "All-out attack" and "Bowling Plans". All-out attack mode is available for Batsman as well as bowlers. There is finally something higher than the "Very Aggressive" mode which may excite you. When you will be excited you will try to use this mode from the starting of the game. But what really works is the AI. Without building confidence, if you'll go with this mode then you will hardly able to stay on the crease for more than 1 ball.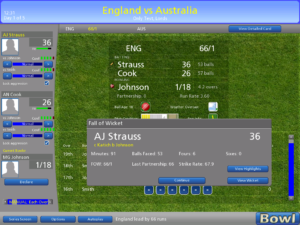 Another thing I really liked is the detail of each player's innings in a match. You can view the details of his complete innings in a particular match.
At the end, I would like to put some words as a summary:
Good:
1. Better A.I
2. Highly Detailed Statistics
3. Customizability of Database
4. Database Management
Bad:
1. No 3-D Animations again
2. No Music and the game environment sound a bit dull
Please note that this is just a quick Preview of the game, please keep visiting CricketGaming for the official Review of this game. A free trial version will be available on www.cricketcoachgame.com from tomorrow (19th Nov 2010).