A new footage video of Move Street Cricket for PS3 which is developed by Trine Game and published by Sony.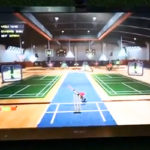 Recently we posted an article about upcoming cricket game for PS3 Move titled Move Street Cricket which is developed by Trine Games India and Published by Sony. We also posted the screenshots of this game in the last news article. Today we came across a new footage of this game. This video is not an official video but shows a little bit about this game.  The video seems to be coverage of a Middle East Gaming website MEGamer. Forward the video to see the game working live while the blogger tests the game. You can also visit the direct link of this video if you are not able to see it here.
[youtube_sc url="http://www.youtube.com/watch?v=GbwB1z9-a8s" width="450″]
Unfortunately, this is the only cricket game which has been confirmed to be released this year apart from other rumored games. The game looks fine but still we can't say anything before testing this game as everything depends on Gameplay.  We will be posting more updates about this game so stay with CricketGaming.
EDIT: You can now Buy Move Street Cricket only for Rs. 1499/-.